The Series 893 Foot Control:
A Boon For The Not-So-Go-Getter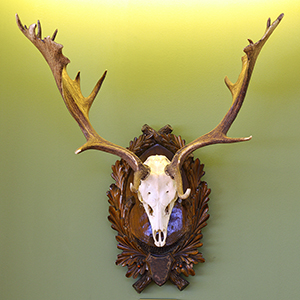 The Mako shark must keep moving or die. What do humans do in life's pauses without suffocating from inactivity? 
Two weeks before the dawn of 2023 and I am free from the responsibilities of my day-to-day job. I looked forward to this break from routine. I daydreamed of the first morning of nothingness. But now that I am here, luxuriating in zero plans. I find myself milling around the house, staring at various objects, looking out windows, wondering what other people are doing, and whose filthy cat is taking a dump in our mulch. Are other people at their jobs, whiling away wishful hours so they can then marinate in melancholy and stare out of windows? Indeed, some quiet solitude is good for the soul. 
Thus the first phase of my staycation. It's good to be quiet and look around our homesteads, wondering, "Why did we ever buy that couch?" or, "Whose horrible idea was it to mount a deer skull in the living room?" Things long since overlooked, battles not worth fighting in the flurry of overstuffed schedules, suddenly appear in full color in the quiet calm, radiating regret. 
This realization of poor choices naturally led to gluttonous distraction, the second phase of my staycation. Binge-watching British mysteries feels delicious in the beginning. Snuggled in with coffee and chocolate, justified that I have indeed earned this giant waste of time. I dare say, I do not feel more refreshed after three hours of Shetland. I feel glazed, a worthless hull of a human who should have been cleaning out closets instead of fantasizing that one day I will move to a charming remote island off the coast of Scotland with a one in three chance of being murdered by a local.
The third phase of my staycation has become a time of overall assessment. As in, "Where is our little tribe of three (mother, father, teenage son) going in the upcoming year? Will my son remember to take out the trash in 2023? Will I ever find the thirty-seven pairs of reading glasses that entered our house but never left? Will my husband finally buy pants that fit instead of unbuttoning them every time he sits, including in church?"
"God loves me as I am. Even unbuttoned," he said.
"God will love you just as well in a size 36," I said.
Upon hours of reflection, it's easy to see that all of these idiosyncrasies are themes of resisting maturity. A humbling realization, as growth can be painful. We are not as big as we think we are, and when reduced to lounging husks, we reduce fulfillment exponentially. Ecclesiastically speaking, there is time for everything. A time to ponder, a time to assess, and then a time to put down the remote, get off the couch, and get to work. Like the Series 893, which is designed for greater operator comfort and improved productivity. It offers consistent performance to get the job done.
Get off the couch. Be inspired. Choose the Series 893.